Overview of qualifications: 
Designation: Registered Massage Therapist (RMT) in Ontario since 2015
Employment:Working with us since 2015
Memberships:Registered Massage Therapists Association of Ontario (RMTAO) and the College of Massage Therapists of Ontario (CMTO)
Education: Massage Therapy Diploma from Algonquin College of Applied Arts and Technology (Ottawa)
Additional courses: Laura intends to pursue courses in TMJ
Point of interest:As an RMT student, Laura spent time helping adults receiving physical rehabilitation, children with learning disabilities and physical disabilities such as cerebral palsy, senior citizens in palliative care,athletes and many more.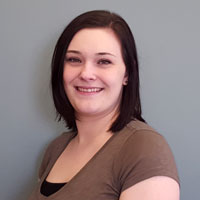 Favourite quote: "People, even more than things, have to be restored, renewed, revived, reclaimed and redeemed" – Audrey Hepburn
Skills and specialties: Laura uses her vast knowledge of the human anatomy and physiology to help treat people experiencing a variety of conditions. Using a combination of neuromuscular techniques, proprioceptive neuromuscular facilitation stretches and Swedish massage, she can help alleviateboth acute and chronic pain throughout the body. She also provides relief of common conditionsin pregnancy, including lower back pain, swollen feet and swollen ankles
Conditions successfully treated:Laura commonly treats adults and children experiencing neck, shoulder and back stiffness and pain, headaches, disc herniation, lumbar spine herniation, plantar fasciitis,Patellofemoral Pain Syndrome (PFPS), carpal tunnel syndrome, pinched nerves, Thoracic Outlet Syndrome,and many more. She also uses massage techniques to help alleviate and manage ongoing pain as a result of chronic stress or anxiety,Chronic Obstructive Pulmonary Disease(COPD),Multiple Sclerosis (MS), subacute and chronic concussions, chronic bronchitis, seizure disorders and stroke.
Special interest:  Laura has a particular interest in treating people with temporomandibular joint disorders (TMJ), which relates to conditions affecting the area around the jaw. Chewing, speaking or clenching can irritate the articulating disc and/or aggravate the surrounding muscles leading to stiffness, soreness, or even misalignment of the jaw. TMJ is often overlooked as the possible cause of common conditions such as headaches, toothaches and neck pain.  Proper treatment of TMJ can lead to significant pain relief in the jaw and throughout the body.
Laura decided to become an RMT at the age of six. She remembers lightly massaging her grandfather's hands in an effort to relievehis arthritis. Witnessing him work with his tools with more ease or being more active as a result of her care made her realize the many benefits of massage. Years later, Laura continues to enjoy helping people live happier, more active lives.
Our therapists have been trained by stringent standards laid out by the College of Massage Therapists of Ontario. After completing a curriculum of 2,200 hours and successfully completing both written and practical exams, the College issues their registration. All our massage therapists are Registered Massage Therapists.
Most people approach us with one or two areas of need, such as a stiff neck, sore lower back or shoulder ache, with little idea of what technique will be best. At Jockvale Massage &Physo, our therapists are equipped with a broad range of techniques to help you with your needs.