Overview of qualifications: 
Designation: Registered Massage Therapist (RMT) in Ontario since 2014
Employment:Working with us since 2015
Memberships:Registered with the College of Massage Therapists of Ontario (CMTO)
Education:Massage Therapy Diploma from Algonquin College of Applied Arts and Technology (Ottawa), and a Bachelor of Arts from Mount Allison University (Sackville, NB)
Additional courses:Megan intends to pursue additional courses indeep connective tissue, sports massage and surgical scar treatment
Point of interest:Megan has a special interest in assisting athletes. She has volunteered as part of the medical staff for the 2015FIFA Women's World Cup as well as for several varsity and youth sports teams.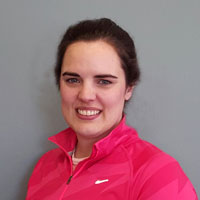 Favourite quote: "You have brains in your head. You have feet in your shoes. You can steer yourself any direction you choose. You're on your own. And you know what you know. And YOU are the one who'll decide where to go… " – Dr. Seuss
Skills and specialties: Megan specializes in treating people who experience tension, stiffness and pain in their neck, shoulders and lower back. These conditions are often caused by assuming a head-forward posture and tend to affect office workers who perform repetitive movements or sit for long periods of time. Megan alternates between Swedish massage, Trigger Point Therapy, Neuromuscular Technique (NMT) and deep tissue therapeutic massage in order to increase range of motion and relieve pain for her clients.
Conditions successfully treated:Megan's diverse skills and treatment techniques have allowed her to treat adults and children with acute and chronic conditions. She has successfully treated people with whiplash, headaches, neck pain and stiffness and shoulder pain. She has also helped manage the pain for clients with fibromyalgia, and massaged scar tissue to increase proper joint motion.
Special interests: Megan's athletic background and love of sports led her to becoming a student trainer for a university football team. Helping those athletes recover from injury and get back on the field guided her to pursue a career in massage therapy. Since then, Megan has expanded her interest and experience to helping people of all ages and all levels of activity. She enjoys the process of helping people feel their best.
Our therapists have been trained by stringent standards laid out by the College of Massage Therapists of Ontario. After completing a curriculum of 2,200 hours and successfully completing both written and practical exams, the College issues their registration. All our massage therapists are Registered Massage Therapists.
Most people approach us with one or two areas of need, such as a stiff neck, sore lower back or shoulder ache, with little idea of what technique will be best. At Jockvale Massage & Physio, our therapists are equipped with a broad range of techniques to help you with your needs.