Overview of qualifications:
Designation: Registered Massage Therapist (RMT) in Ontario since July 2005
Employment: Jockvale Massage & Physio in Barrhaven since August 2017
Memberships: Registered with the College of Massage Therapists of Ontario (CMTO)
Education: International Academy of Massage (Ottawa) and School of Structural Therapy (Ottawa)
Certifications: Reiki Master Accreditation (2003)
Additional courses: Diagnostic Electrodes Acupuncture, Osteopathy Techniques, Traditional Thai / Thai Yoga Massage, Indie Head Relaxation, Sports Massage, Myofascial Release
Continuing education: Osteopathy, Southern Ontario College of Osteopathy (since 2017)
Point of interest: Tatiana's great-grandmother, grandmother and mother were holistic healers in Moldova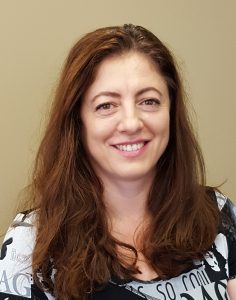 Philosophy: "The body is a vehicle to carry your soul through your life. The better you take care of it, the better it will run."
Skills and specialties:  Tatiana combines her experience as a Registered Massage Therapist, Reiki Master and soon-to-be-certified Osteopath (September 2019) to provide a highly personalized, holistic approach to helping her clients rebalance, recover and feel better. Once she earns her second license, clients with coverage for osteopathic treatments in their extended health care insurance policies will be able to submit a claim—above and beyond submitting a claim for massage therapy today, for which she is already licensed.
Tatiana is focused on encouraging and educating clients on how to strengthen the connection between mind and body—whether it's learning to recognize and listen to the language of pain or deepening an awareness and commitment to self-care. Tatiana has treated people of all ages: infants, toddlers, youths, teenagers, adults and seniors. She has experience working in health care centres, physiotherapy clinics, salons and spas. Earlier in her career, she worked as a therapeutic ultrasound technician, diagnostic electrodes acupuncturist, bio laser technician, and Ayurvedic spa technician.
Conditions successfully treated: Tatiana's summary of qualifications is substantial, enabling her to support many different kinds of healing journeys such as those associated with: migraine/tension headache, back pain, sciatica, frozen shoulder, TMJ, joint pain, injuries from sports or vehicle accidents, repetitive strain injuries, stress and anxiety disorders, pre-natal and post-natal symptoms and conditions, and holistic support for chronic and critical illnesses such as fibromyalgia and cancer.
She is also experienced in Swedish Massage techniques, Cranial Osteopathy, Counterstraintechnique, Facilitated Positional Release technique, Oscillatory technique, Muscle Energy technique, Global Listening Evaluation Assessment, Thai Massage Level One, Indie Head Massage (Scalp, Neck and Facial), Trigger Point Release, Proprioceptive Neuromuscular Facilitation/Active Inhibition Techniques (PNF), Hydro Therapy, Manual Lymph Drainage (MLD), Low Grade Joint Play Technique, Myofascial Release Technique (MFS) Advanced Level, Visceral Manipulation Using MFS on Lower Back Pain, Muscle Energy (Structural Therapy Direct Technique) Level One, MVA Treatment Planning, WSIB Treatment, Infant Massage Treatment, Geriatric Massage Treatment, Torticollis Release Treatment, Patella Femoral Syndrome Treatment, Sacroiliac Mobilization / Treatment, and more.
Special interests:  As a fourth-generation health and healing advocate, Tatiana is passionate about empowering and inspiring her clients to feel better and heal better. As practical as she is intuitive, Tatiana takes the time to explain how and why various healing techniques are effective and what more clients can do to optimize results. Beyond her commitment to continuously expand her skill set and qualifications, Tatiana enjoys balancing her professional life with the health benefits of meditation, yoga and folk dancing.